A Guide to Austin Public Transportation
Austin is known for a lot of things: our stellar barbecue, the beautiful waterways, our booming live music scene, our ability to combine almost any activity with beer. Notably absent from the list is our public transportation system, which you may be surprised to learn that we do, indeed, have. While the fine folks at CapMetro operate several different bus lines (and one train), there are two north-south lines that provide easy, quick access to some of the most popular destinations in Austin. If you are a visitor to Austin looking to take advantage of our super-cheap public transportation, look no further than the 803 and 801 MetroRapid lines.
The 801 and 803 lines are MetroRapid busses that provide express service on north-south routes.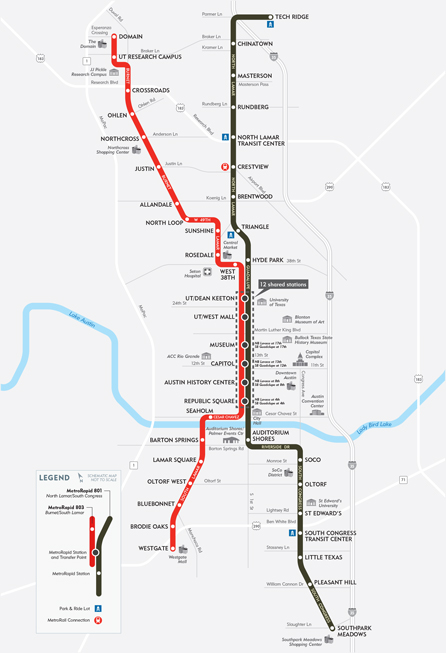 There are two main north-south bus routes in Austin. These lines are called the 1 and the 3, and the express versions of these routes are called the 801 and 803. A 1 or 3 bus will take you anywhere that an 801 or 803 bus will, but the 1 and 3 busses are smaller, make more frequent stops, and don't come as often. The 801 and 803 stop frequently enough to provide access to some of Austin's most popular destinations, so I always recommend that people look for these lines instead of the 1 and 3 busses. The MetroRapid busses tend to be newer and cleaner and provide free wifi onboard, so you'll be able to catch up on all your cat videos super-important business emails during your ride.
The 801 runs from Southpark Meadows in South Austin to Tech Ridge in North Austin and travels down North Lamar and South Congress. Popular stops for tourists include Auditorium Shores, from where you can walk to Ladybird Lake and Barton Springs, and Soco Station, which drops passengers off in the heart of the popular South Congress district.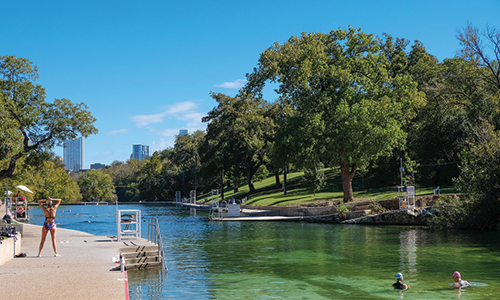 The 803 runs from Westgate in south Austin to the Domain in north Austin and travels down Burnet Road and South Lamar. On this line, tourists may want to check out North Loop, where there are a multitude of funky stores, or Barton Springs, from where you can access both Barton Springs pool and Zilker Park.
Both the 803 and the 801 make the same stops from downtown to UT, meaning that if you are travelling between UT and downtown it doesn't matter which line you hop on. The UT/West Mall stop will drop you off right in front of the UT Tower and the Harry Ransom Center (which has a Gutenberg Bible and the first photograph). The Capitol stop will take you to, well, the Capitol Building. Both the Austin History Center stop and the Republic Square stop will give you easy access to all downtown has to offer—I typically get off at Republic Square and walk a couple of blocks north to Sixth Street.
How often do they show up?
MetroRapid busses run every 10 minutes on weekdays and every 15 minutes on Saturdays and Sundays. These busses also run until 2:30 am Thursday-Saturday. Real-time information about wait times can be accessed via the CapMetro app and is displayed at some stops.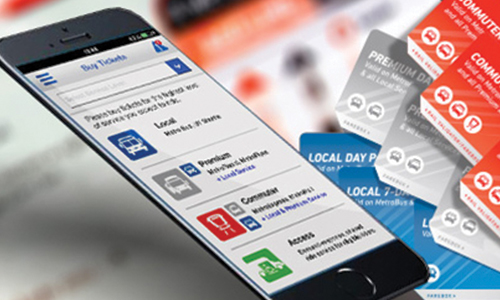 You have a couple of options for purchasing a CapMetro ticket. Single rider fares are $1.25, but you can snag a day pass for $3 that will allow you unlimited rides in a 24-hour period. The easiest way to buy a pass is on your smartphone through the CapMetro App. You buy a pass on the app with a credit card and the pass shows up as a QR code on your phone, meaning less little bits of paper for you to keep track of. You can also purchase a paper pass or a single fare with cash on the bus. If you want to purchase a pass on the bus, enter the bus at the front by the driver. If you already have a pass, you can scan your pass at the rear bus entrance and skip the line of people paying cash.
You're not allowed to bring open containers on the bus, so chug that latte before hopping on. That being said, I've found that the drivers on the MetroRapid busses are much more lenient about this sort of thing. This likely has to do with the fact that these busses are jam-packed with commuters in the morning, and keeping sleepy software developers and doctoral students from bringing their coffee might end in mutiny.
Download the app! The times given on the "Trip Planner" option are pretty on-point—I have never had to wait more than a minute or two past the schedule given on the app.
If you have a bike, you can use the bike racks on the front of the bus. Ask a driver or fellow bike rider for directions—I haven't ridden a bike since an unfortunate college accident involving me, a hedge, and small crowd of freshman, so I won't advise you on this topic.
Have fun! I have so many fond memories of meeting people on the MetroRapid. From the chatty grandmothers headed to the first Women's March, to the brightly costumed families riding to Eeyore's Birthday, to the impromptu barbershop quartet formed by my roommate and three St. Ed's students, the CapMetro bus will remind you in the best way that Austin is still pretty weird.