Boston Walking Tours
We're currently offering tours for groups of 6 or more! Email us for guide availability.
Kelly@tipstertours.com

Shippin' up to Boston! Welcome to the capital of Massachusetts and one of the oldest cities in the US. Founded in 1630 this iconic city is chock-full of history! Take a dive (not literally) in the harbor where the Boston Tea Party took place.
Or, pop into a cozy pub for some real New England clam "chowda." Being the heartbeat of New England, we know that you'll have a wicked good time here!
With four unique seasons, there's so much to explore any time of year.
Historic Boston Walking Tour
We're offering tours for private groups of 6 or more, email us for guide availability!
Take a stroll with us on our Historic Boston Walking Tour. Go back in history as we follow Boston's Freedom Trail, and receive great recommendations on where to grab a bite and clink beers after.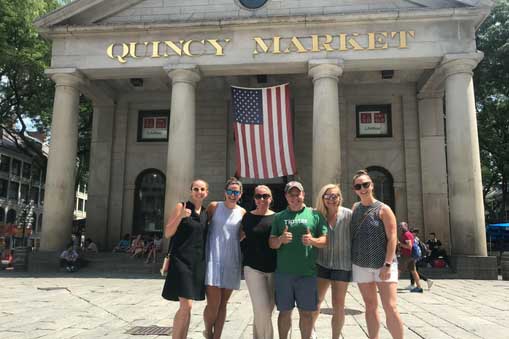 Group tours available upon request. Email Kelly at Kelly@TipsterTours.com
Got Questions?
We've put together a list of Frequently Asked Questions (FAQs) to help you prepare for your walk.