Summer is fast approaching and that means one thing: it's time to swim.
Many visitors might not realize that Austin has one of the largest connections of rivers and lakes in the state. The Colorado River runs through the city and dams have been built and various points to form seven lakes. In addition to the lakes, there are natural and man-made swimming holes scattered in every part of the city. They are some of Austin's best kept secrets.
Swimming is the perfect remedy for a hot day. Whether you're visiting Austin or have yet to explore all that the city has to offer, make sure to visit some of our favorite places to swim to beat the heat.
Top 3 Places to Swim for Free in Austin
There are plenty of cost-free and easily accessible places to swim in Austin. Check out a few of our go-to spots along the Austin greenbelt.
1. Barton Springs Spillway (Free Side)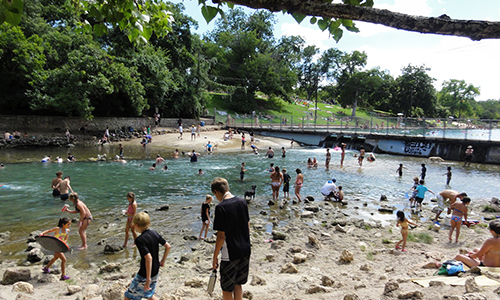 If you want to enjoy part of Barton Springs without the $3-8 fee, check out the spillway or as locals call it "the free side." Also known as barking springs, it's a place where dogs can be off-leash and swim. You'll find Austinites and visitors relaxing is the cool 68 degree water spilling over from Barton Springs.
Hours: Anytime until the sun goes down
Tipster Tip: This side of Barton Springs can get crowded, especially in the early summer. Consider starting your swim earlier in the day to stake out a spot to sit.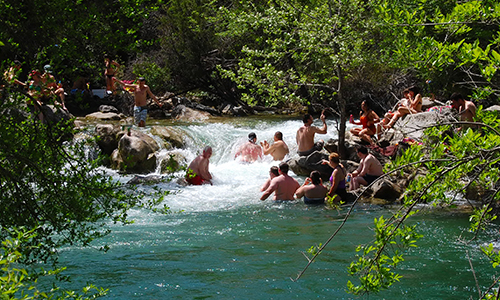 These are go-to places to swim in Austin during the early summer and fall. Located alongside South Mopac in the greenbelt, you venture out on a shaded trail about a half mile before hitting Twin Falls. You can take a dip here and continue walking another mile to chill at Sculpture Falls. Both are filled with shade, flowing water and a lot of happy swimming dogs.
Hours: Anytime until the sun goes down
Tipster Tip: The water generally dries up mid-summer, so make sure to visit in May and June. Pack water, food and wear comfortable shoes if you plan on spending the day outside.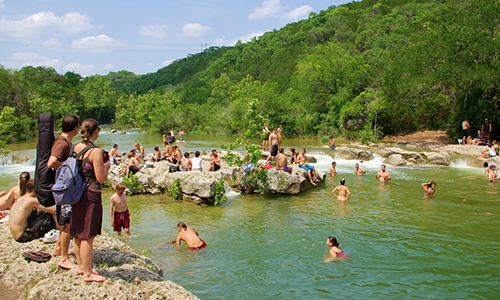 Another great place to swim along the Austin greenbelt is Gus Fruh. Access to this swimming hole is inside a residential neighborhood so it tends to be less crowded than other popular spots. It's a great place to swim, climb and relax underneath plenty of shade.
Hours: Anytime until the sun goes down
Tipster Tip: Don't wait too long to visit Gus Fruh in the hot season. The water dries up mid-summer.
Top 3 Inexpensive Places to Swim in Austin
In the late summer, most of the water has dried up along the greenbelt which makes swimming for free more difficult. Luckily, there are inexpensive local favorites to visit all year round.
Barton Springs is one of the most popular places to swim in Austin all year round. Even when it's crowded, there is always a comfortable amount of space to swim and relax alongside the pool. The water is also kept at a cool 68 degrees – the perfect temperature to escape the Austin sun.
Hours: 5am-9pm
Cost: For non-residents, $8/adults, $4/children ages 12-17 and $3/children ages 1-11
Tipster Tip: On a warm night, head to Barton Springs after 9pm for free night swimming.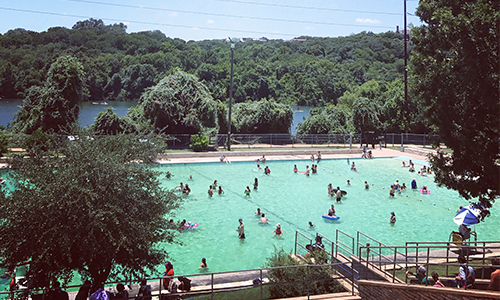 This man-made spring fed pool is said to be the oldest swimming pool in Texas. It's the perfect spot to swim laps or chill on a hot day. The water comes straight from the Colorado River, making it around 70 degrees all year round.
Hours: Weekdays: 10-8pm, Weekends 8-8pm
Cost: fees range based on age. The non-residential prices are: $8/adults, $4/children 12-17, $3/children 1-11
Tipster Tip: Check the website for summer event like a movie night in the pool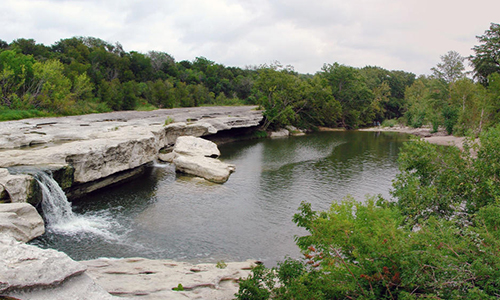 Head to McKinney Falls if you want to enjoy nature outside central Austin. The state park is filled with trails to hike, bike and even camp. Enjoy swimming in the various remote locations and falls.
Hours: 8-10pm
Cost: $6/adults, children under 12 are free
Tipster Tip: Check out the lower falls for more swimming. Also, visit their website for updates on water levels and quality.
Go on an Adventure! Best Places to Swim Outside of Austin
If you're visiting Austin for an extended amount of time, try traveling outside the city for these more adventurous places to swim.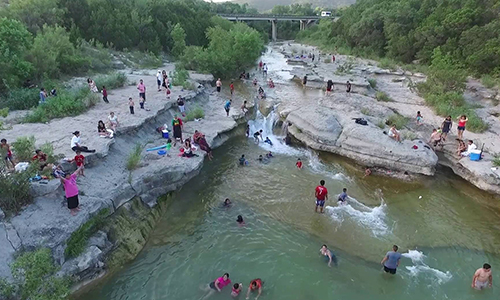 The best thing about Bull Creek is how far it extends. Bull Creek District Park is home to 11 miles of trails. There are two large swimming holes where the park begins along with picnic tables, a bathroom and plenty of parking. If you'd rather find a remote place to swim, try venturing along the trails. Just don't get lost!
Cost: Free
Hours: Anytime until the sun goes down
Tipster Tip: Pack a lunch and picnic in the park before you start your hike. Don't forget to bring sunblock and bug spray!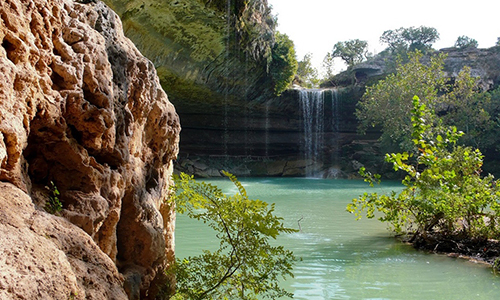 Hamilton Pool is one of the most well-known natural swimming holes in Austin. It's so well-known in fact, that you have to make reservations to visit. This natural pool a great place to swim, especially when water is flowing from the 50 foot waterfall above you.
Hours: If visiting before October 31st, you must reserve a spot. You can choose 9am-1pm or 2-6pm
Cost: $11/person + $15/vehicle at time of entrance (cash only)
Tipster Tip: Don't forget to bring cash to park, they don't accept credit cards. Also make your reservation early! The weekends are usually busiest.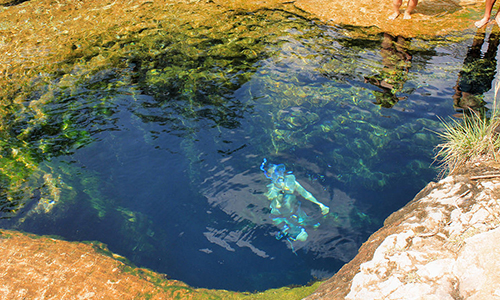 If you can make the one hour drive outside Austin to Wimberley, don't miss your chance to swim at Jacob's Well. This beautiful, underground spring is a natural wonder with clear water all year round.
Hours: 8am-6pm
Cost: $9/adult, $5/children 5-12, free for children under 4
Tipster Tip: Starting May 1st, you have to make reservations on their website. There are designated 2-hour time blocks throughout the day so plan on exploring Wimberley before or after you're done swimming.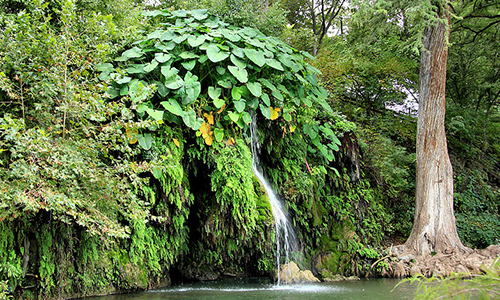 Explore Texas hill country by visiting Krause Springs in Spicewood, TX. This private 115-acre property is like a paradise in the middle of Texas. Plus, there are good water levels with a cool temperature of 68 degrees most of the year.
Hours: 9am-Sunset (usually 8pm in the summer)
Cost: $8/adult, $5 children 4-11, free for children under 4 (cash only)
Tipster Tip: Since Krause Springs is on private property, feel free to bring food and drinks. If you plan to stay and camp, check the website for overnight fees. It's first come first serve unless you have an RV hookup.
Would You Rather Be On the Water?
If you're not into swimming, try exploring Lake Austin and Lake Travis with Float On boat rentals!
Get a chance to tour Austin by water. Try fishing on Lake Austin or visiting one of the many parks with beach access along Lake Travis.
Easily rent a pontoon or ski boat for the day. The friendly staff from Float On boat rentals will guide you through the process of finding an awesome and cost effective boat for your adventure.